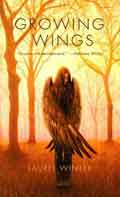 Laurel Anne-Hjelvik Winter, the first, as told by herself
As a kid
I was born Laurel Anne Hjelvik on 22 April 1959 in Columbus, Montana. I grew up in Nye, Montana, and attended a one-room country grade school with one teacher (Mr. Jackson!) for eight grades. There were between 12 and 25 students in the whole school. After that, I rode the bus 30 miles one way to the big school in Absarokee, where there were 33 in my graduating class. I was valedictorian of the class of 1977, but they considered me too shy to give a speech—they may have been right, but I think I would have developed public speaking skills sooner if I'd had to. (I recommend Toastmasters. If I can be turned into someone who, usually anyway, enjoys speaking in front of groups, anyone can!) I'm the oldest. My two sisters are Tracey and Shelly and my (much younger) brother is Mikol.
I was smart and clumsy and wore thick bifocals from the time I was four years old. Track meets with the other country schools were some of my worst experiences—participation awards in every categroy, because every study had to participate in every event, except the year I got third place in everything because there were only three in my age group. And things like spelling bees. I received third in the state when I was in eighth grade—and standardized tests were the best. I loved standardized tests.

At every holiday, our moms would bring in cupcakes or cookies and we'd have parties at school where every student had to write and recite a poem to the rest of the school. Most people didn't like that much, but this kid loved it.